Susi Havens-Bezaire
Bending rebar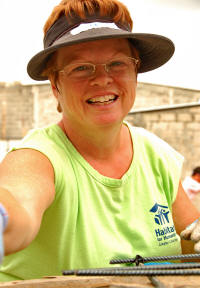 Guayaquil, Ecuador
Photo by Dave Bezaire
A Road Less Traveled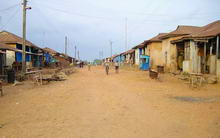 Awaso, Ghana
Photo by Dave Bezaire
Susi Havens-Bezaire began volunteering for Habitat for Humanity—MidOhio in 1989 to help organize HFHI's the Fifteenth Anniversary celebration which was held in Columbus. Following that wonderful event where she met President Jimmy Carter and Milliard Fuller, she directed her volunteer efforts to fund raising for the local affiliate. She has served two terms as a Board member (seven years), filled in as Interim Executive Director for eight months, and continued to focus on resource development.
In 2004, at the request of the Executive Director of HFH-GC, she organized the first Global Village trip from Columbus, Ohio to Ghana, Africa. After seeing first-hand the deplorable living conditions in developing countries, and having experienced the wonderful impact that Habitat has on people's lives, she feels compelled to continue the work, and so far has led trips to Mexico, Guatemala, Thailand, Dominican Republic, Boliva, Ecuador and Botswana.
Susi has worked with Habitat for Humanity in a number of other cities in the USA including: Bay St. Louis 2009 and Tucson 2012 & 2010.
Painting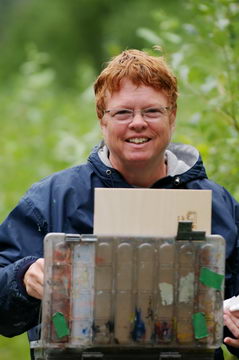 Valdez, Alaska
Photo by Dave Bezaire
Throughout Susi's careers as family therapist, full-time mother, and volunteer community organizer, she has always experimented with different art forms in her spare time - including metal sculpture, pastels, and stained glass. Since 2002, she has refined her artistic talent through formal training and intense dedication to oil painting, which you can enjoy at SusiHavensBezaire.com.