Tucson 2012
A Road Less Traveled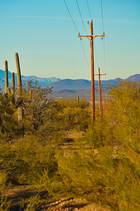 Tucson, Arizona
Photo by Dave Bezaire
Needing some R&R in early-2012, Susi & Dave returned to the familiarity of Tucson to once again live for two months at the Rincon Country West RV Resort and work with Habitat for Humanity Tucson. They were delighted to once again team up with their good friends from Columbus, Terry & Sue Baughman. Vowing greater participation in local activities, they limited themselves to three days a week of volunteering, with Susi doing family recruiting and community development in Green Valley in southern Pima County, and Dave focused on construction. Related links include:
Susi's major R&R activities included making many plein air paintings that can be seen at SusiHavensBezaire.com, and performing 100 Years of Broadway with The Villageaires Chorus, from which Dave posted photos in the 12-03-03 RCW Villageaires album. Southside Presbyterian Church provided a fun choir experience, and a dynamic spiritual home where everyone really feels their connectedness with each other, all other people, and our entire planet. One highlight was Rev. Fife's Called to GREAT THINGS talk on Martin Luther King, Jr. Day.
---
Tucson 2010
A Road Less Traveled


Sabino Canyon, Arizona
Photo by Dave Bezaire
In 2010, the lure of a warm winter brought Susi & Dave to Tucson, Arizona, where they worked with the local Habitat for Humanity affiliate during January and February. Dave worked 3 days a week helping the staff refine the donor database and mailing programs, and did rehab work on Thursdays with volunteers from the Rincon Country West RV Resort. Susi focused her 4 days each week on program development, helping HfH Tucson become a host for Global Village teams, and connecting them with HfH International Youth Program to enable innovative summer programs. You can read a volunteer spotlight article on the HfH Tucson web site.