Columbus GV Team
A Road Less Traveled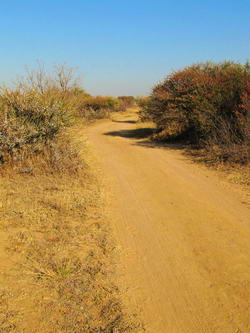 Molepolole, Botswana
Photo by Dave Bezaire
The Columbus Global Village Team is sponsored by Habitat for Humanity—MidOhio to actively support a worldwide housing ministry through short-term mission teams. Although our special emphasis is recruiting members from the Central Ohio area so that we can adequately research and prepare ourselves prior to departure, we also welcome and include team members from around the world. To get an idea of the payoff this approach affords, please see the pictorial Friends From Awaso on the Ghana page.
Reports are available from all of the Columbus Global Village Team mission trips including:
Join us
Habitat for Humanity International (HFHI) operates the Global Village Program so that groups of people can experience Habitat's global ministry firsthand by traveling to and working alongside homeowners and partners at affiliates worldwide. Eleanor Frank, an International Partner with HFHI in Haiti explains it well:
As we accept the gift of other cultures, and share the gifts of our culture, one by one we are taking steps toward ending poverty, ending hunger and moving toward a home for all people, towards peace in the world. Participating in a short-term mission can change your view of the world (and how you see yourself within it), your church and all the people with whom you share your story. Your team can help to build a house and build one more bridge between two cultures.
We have been exhilarated by all nine of our wonderful Global Village experiences — and also left with a burning sense of need to learn more, see more, and do more. We plan to continue leading one or two Global Village trips each year as long as we are able. You can be a member of the Columbus Global Village Team, and we guarantee that your next vacation will be a very different kind of adventure! Come; be transformed! Contact us for more information.
Gratitude
We are tremendously grateful to all of our friends, family, acquaintances and former strangers who support and encourage the work of the Columbus Global Village Team through their kind words, thoughtful prayers, and generous donations. Here are a couple of thank you cards that we have created to help express our appreciation: