Dave Bezaire
Morning meeting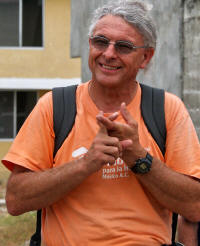 Guayaquil, Ecuador
Photo by Scott Moore
A Road Less Traveled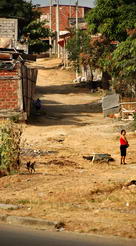 Guayaquil, Ecuador
Photo by Dave Bezaire
Dave Bezaire has been the leader for ten Habitat house builds in Columbus, three of which were blitzes during the Ohio State Fair. He has been the construction coordinator on all of our Global Village missions to Ghana, Mexico, Guatemala, Thailand, Dominican Republic, Boliva, Ecuador, and Botswana.
Dave has worked with Habitat for Humanity in a number of other cities in the USA including: Bay St. Louis 2009, Tucson 2012 & 2010 and Detroit 2005. He served on the Habitat for Humanity—MidOhio Board from 2001 through 2008, and occasionally helps out on the finance and construction committees.
Since retiring from CompuServe / America Online in 2001, Dave has also volunteered for six United Way fall campaigns as a Loaned Executive assisting corporations with set up and execution of their employee pledge campaigns.
While Dave likes to think that one of his most valuable Habitat skills is organizing and teaching unskilled volunteers to build high-quality houses, he mostly finds that Habitat a great way to live his faith while playing with great toys... err…umm… tools..