Thompson–Weiler Project (Schultz 2007)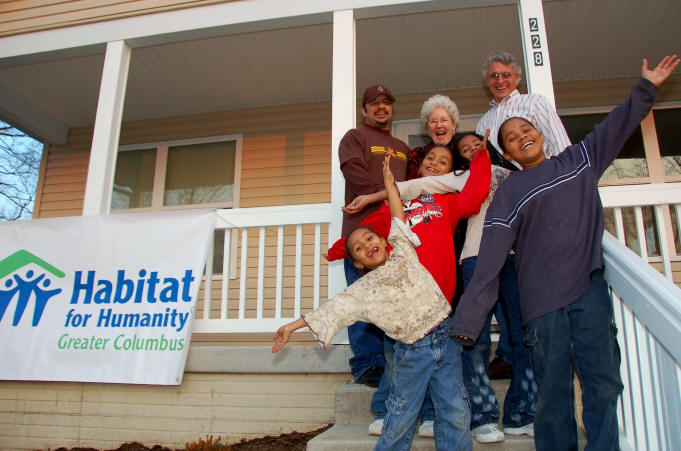 The Thompson-Weiler Project is one of 15 houses that are being built in 2007 through the efforts of Habitat for Humanity—MidOhio. Habitat is pleased to support the resurgence outlined in the City of Columbus Franklinton Plan and spearheaded by the Franklinton Development Association with this house on Schultz Avenue–the 8th Habitat house built here in the oldest community in Central Ohio.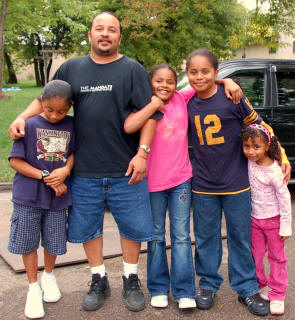 Our homebuyer partner on this project is the Thompson Family including Benny and his 4 children. Benny works at Port Columbus Airport to support his family, and his commitment to the sweat equity, financial and other house purchase requirements is the cornerstone that makes this project possible and worthwhile.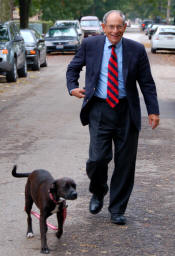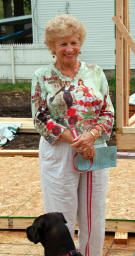 We have been abundantly blessed with financial support from Alan and Bobbie Weiler who made a $100,000 donation to cover the entire cost of construction for this house. This is the second house that the Weiler's have sponsored in as many years. We are very appreciative of their generosity!
The house at 228 Schultz Avenue is an Open Build. This means that at the outset there is no single group of volunteer builders committed to the project. We have an empty lot, a deserving partner family, generous financial support and an undying faith in the power of God working through people. Dozens of organizations have stepped forward and organized their employees and members into work groups that will donate over 2500 hours of volunteer labor to build the house. Thank you for your generosity!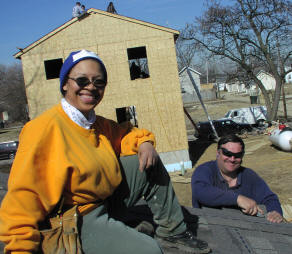 Marge Ward and Dave Bezaire are committed to work on the project from beginning to end, providing the leadership and continuity to insure a high quality result. They are very appreciative of Terry Baughman's dedication as a crew lead throughout. All of the work was done under the direction of Roger Powell, Construction Superintendent.
Below is a listing of the volunteer groups who worked each day, and the progress that we accomplished. Click on the camera icon to see a slide show of pictures from each day.
Date

Pictures

Work Groups

Accomplishments

12/18/2007

None Available

House Lead

Punchout; Paint garage door

12/15/2007

None Available

Individual volunteers

Punchout; Paint front & rear doors; cleaning

12/14/2007

None Available

Habitat Affiliate Staff

Punchout; cleaning

12/13/2007

None Available

Thursday Crew

Punchout; cleaning; install carpet protector

12/12/2007

None Available

House Leads

Punchout; cleaning

12/10/2007
- 12/11/2007

None Available

Contractor

Install carpet

12/8/2007

None Available

Individual volunteers

Paint touch-up; install towel bar; install mirror; install basement stairway baseboard; install linen closet shelves; repair "plumber's window"; prep floor for carpet

12/7/2007

Abbott Nutrition

Final paint; wash windows; install screens; nail baseboards; install towel bars; install closet shelves;

12/6/2007

None Available

Thursday Crew

Install towel bars; final paint; install basement handrail; install bypass door guide blocks

12/4/2007

None Available

Tuesday Crew

Install baseboard; install gutter guards

12/3/2007

None Available

House Leads

Install front door vinyl; begin final paint

12/1/2007

Archer, Meek, Weiler Agency; individual volunteer
Lunch by Faith Force Volunteers

Install porch soffit; install house numbers; install front door underlayment, baseboard; complete interior doors; poly stairway handrail; install walk stones to garage; putty trim nails; install light bulbs; paint mailbox; fill screws in door kick panels

11/30/2007

None Available

House leads

Paint porch railings; stain stairway handrail

11/29/2007

Thursday Crew

Install baseboards; install half-bath vanity; complete kitchen cabinets and countertops; install closet by-pass doors

11/28/2007

None Available

House leads

Kitchen cabinets & countertops; paint front porch railings

11/27/2007

Tuesday Crew

Install most interior doors; install most kitchen cabinets; install window trim; patch drywall; paint cold air returns

11/26/2007

None Available

House leads

Install vinyl flooring

11/24/2007

None Available

Vineyard; individual volunteers

Complete interior painting; complete vinyl floor underlayment & templates; paint basement shelves

11/23/2007

None Available

Individual volunteers

Interior painting; vinyl floor underlayment

11/21/2007

None Available

House leads

Paint porch railings

11/20/2007

None Available

Tuesday Crew

Paint porch railings; insulate 224

11/17/2007

Individual volunteers; Lunch by Bethel Presbyterian Church

Complete porch railings; paint front porch railing; begin 224 porch; complete 224 siding & trim

11/16/2007

AIMCO; Individual volunteers

Install front handrails; install rear porch railings; install 224 and Guilford porch footers; sort materials and clean garages; silence floor squeaks

11/15/2007

None Available

Thursday Crew

Insulate 224

11/14/2007

AIMCO; Individual volunteers
Lunch by The Worthington Senior Retirement Community

Install sod and shrubs; Install front porch railings & handrails; prep & paint porch railings; shingle 224 porch roof; trim rear porch beam & posts;

11/10/2007

Marysville United Methodist Church; Columbus Academy; individual volunteers

Finish 228 siding & fascia trim; finish 224 porch railings and begin 228's; finish 224 north siding; finish 224 gable end soffit and fascia; install porch stairway railing posts

11/9/2007

Limited Brands; Individual volunteers

Install F-channel, soffit and siding on front gable; complete siding on both garages; install 224 porch railings; caulk floor/wall joint in 224; insulate 228 band boards

11/8/2007

Thursday Crew; Thursday Evening Crew

Install F-channel on front gable; install garage overhead door trim; install final back porch post; complete insulation; complete 224 back siding; trim 224 front posts; complete 224 interior framing

11/7/2007

Citi Fund Services

Caulk floor/wall joint; seal windows and doors; install insulation baffles; repair floor gaps; eliminate truss squeak; frame closets over stairs; install Dow insulation board on front gable

11/6/2007

Tuesday Crew

Back gable siding complete; garage aluminum trim complete; Construction locks installed; Window sealing begun; Aluminum beam trim 75% complete; Front porch post trim complete; 224 north siding 98% complete; 224 east siding 85% complete; 224 over stairway storage framed;

11/3/2007

Mifflin Presbyterian Church; individual volunteers; Able Roofing

South siding complete; garage north, west and south siding complete; garage soffits complete; garage aluminum trim 50% complete; Dow insulation board complete on upper back gable end; basement stair safety railings complete; roofing complete; 224 north siding 98% complete; 224 east siding 60% complete; 224 garage aluminum trim complete;

11/2/2007

Limited Brands; HFH-GC affiliate staff
Lunch by Bobbie Weiler

South siding complete; garage south side 80% sided; garage door installed; garage north soffit complete; 224 siding continued, garage aluminum trim complete

11/1/2007

Thursday Crews

North, rear & front porch siding complete; Attic access, over-stairs closet and misc framing details complete; garage siding prep begun; 224 siding continued, beam trim complete, garage 75% complete

10/31/2007

Limited Brands

North siding 95% complete; Rear siding 90% complete; Front porch siding 60% complete; 224 North and South Siding complete to below ladder level

10/30/2007

Tuesday Crew

Complete house soffits; begin fascia trim; prep and side back porch; siding prep on front of house; frame garage door rough opening

10/29/2007

House lead

Frame soffit ends; siding repairs

10/27/2007

Archer, Meek, Weiler Agency; Women's Build; Individual volunteers
Lunch by Vineyard of Columbus

Complete Dow board insulation on garage; install soffits on porches and north side of house; begin siding north and south sides of house; install doors

10/26/2007

Limited Brands

Tarpaper garage roof; sheathe and tarpaper porch roof; complete garage door; begin door installation; install F-Channel and soffit; install hurricane clips; install Dow insulation board; continue framing closet over basement stairs

10/25/2007

Thursday Crew

Continue garage Dow board insulation; F-Channel; Re-flash windows; begin garage door; wrap porch beams

10/24/2007

Arlington Bank; individual volunteer

Build basement shelving components for 3 houses; install 2/3 of shelving over basement stairs

10/23/2007

Rained out

10/22/2007

House lead

Begin soffits; tarpaper roof

10/20/2007

Individual volunteers
Lunch by Faith Force Volunteers

Frame garage door opening; continue Dow board insulation; cabinet and handicap grab bar blocking; drywall blocking; begin porch beam; wind braces

10/19/2007

Limited Brands; JP Morgan Chase

Complete garage roof; continue Dow board insulation; cabinet blocking; curtain blocking; install doors

10/17/2007

Citi Fund Services; Alcatel-Lucent
Lunch by The Worthington Senior Retirement Community

Install almost all windows on both houses; garage trusses and begin sheathing; staircases in 3 houses; garage shelving

10/16/2007

Limited Brands; Tuesday Crew

Continue blue board insulation; Prep garage walls & trusses; Complete roof trim boards; Repair window rough opening

10/13/2007

Individual volunteers; Mifflin Presbyterian Church; OSU students

Complete roof sheathing; continue blue board insulation; frame ceiling in basement stairway

10/12/2007

Limited Brands; Simpson Strong Tie

Begin roof sheathing; begin blue board insulation; install hurricane clips; build garage walls

10/9/2007

Principal Financial; Tuesday Crew

Prep and set trusses on house and garage; finish interior walls

10/6/2007

Individual Volunteers
Lunch by LPN Association of Ohio, Division 12

Continue wall building and porch beams

10/5/2007

Nationwide Children's Hospital Center for Injury Research and Policy

Continue wall building and porch beams

9/28/2007

Citi Fund Services; Columbus Academy; Fisher College of Business

Continue wall building; cover band boards with OSB