Building on a Dream 2004 (Harvard 2004)
Building on a Dream on Harvard Avenue 2004 is one element of the efforts by Habitat for Humanity—MidOhio to honor Dr. Martin Luther King, Jr.'s memory. Read more about Dr. King's dream and Habitat's initiatives by exploring the links above.
The house at 1519 Harvard Avenue is a Building on Faith project. That means that at the outset we do not know how it will be done. Initially there is no funding and no committed group of volunteer builders. There is only an empty lot, a deserving partner family, and an undying faith in the power of God working through people.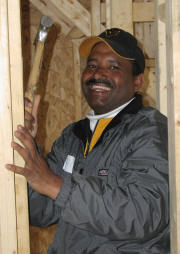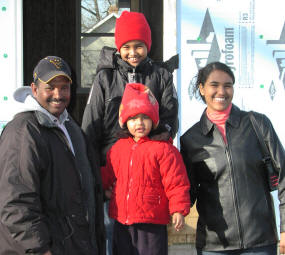 Our homebuyer partner on this project is the Woldegiorgis Family who moved to the United States from Eritrea. Haile drives a taxicab and Salam works at a Wendy's Restaurant to support their 2 children. Their commitment to the sweat equity, financial and other house purchase requirements are the cornerstone that makes this project possible and worthwhile. Here are the four pages of the July 1, 2004 House Dedication Program.

We have been abundantly blessed with financial support from Retirement Marketing Specialists who made a $75,000 donation to cover the entire cost of construction for this house. This is the first of 5 houses that RMS has pledged to donate over as many years. We are so very appreciative of their generosity!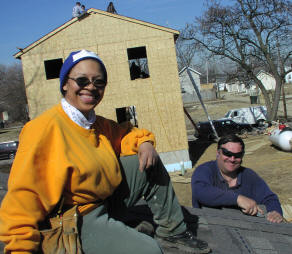 Worthington Kilbourne High School's HomeBASE class has stepped forward with a commitment to work on this project each school day (and many extra days as well!) throughout the winter and spring of 2004.
Roger Beck, JB Girard and Dave Bezaire are committed to work on the project from beginning to end, providing the leadership and continuity to insure a high quality result. Karen Freudenreich is with us every week with wholesome, hot lunches to keep us fueled.
Dr. King's Dream
On August 28, 1963, Dr. Martin Luther King, Jr said to the crowds gathered in Washington, D.C.:
When we let freedom ring, when we let it ring from every village and every hamlet, from every state and every city, we will be able to speed up that day when all of God's children, black men and white men, Jews and Gentiles, Protestants and Catholics, will be able to join hands and sing in the words of the old Negro spiritual, "Free at last! free at last! thank God Almighty, we are free at last!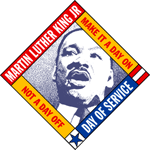 Hear and see Dr. King deliver his famous I Have A Dream speech (including the full text).
Visit The King Center website, where you can listen to Dr. King define greatness as service, requiring only "a heart full of grace, a soul generated by love".
Visit the Martin Luther King Jr. Day of Service site to learn more about efforts across the nation dedicated to remembering Dr King by serving, including many Habitat for Humanity projects.
Daily Progress Log
Date

Completion Elements

Volunteer Groups

7/11/2004

Family occupancy

7/4/2004

Dedication

5/23/2004

Vinyl flooring; Interior doors

5/16/2004

Basement stairs and stairwell; Porch soffit and fascia trim; 1/2 of garage soffit; 2/3 of basement band board insulation

Appraisal Institute

5/9/2004

Drywall; West siding, soffit & fascia trim

Hyatt Hotel, Thursday Crew, Watterson High School, St Charles High School

5/2/2004

2/3 of drywall; Removed basement stairs; Framed 1/2 wall by stairway; Rear siding

Tuesday Crew, Thursday Crew, Watterson High School, St Charles High School

4/25/2004

1/3 of dryall; 2/3 of rear siding

Capital City Consulting, Thursday Crew, Watterson High School

4/18/2004

Insulation; Rear pump jacks; East siding

Appraisal Institute, Watterson High School, Thursday Crew

4/11/2004

Caulking & insulation baffles; 1st floor wiring rough-in; East soffit & fascia trim; Garage siding prep; Conductor lines; Remove door opening bottom plates

Retirement Management Systems, Columbus College of Art & Design, Watterson High School, Speeds Electric

4/4/2004

Front soffit; East pump jacks; 1/2 of rear siding

Big Bear Chuck BB Memorial Group

3/28/2004

2/3 of east siding; 1/4 of rear siding

Student athletes from Brookhaven, Beechcroft and Northland High Schools

3/21/2004

Staircases; Interior framing; More siding details

Tuesday Crew, Thursday Crew, Big Bear Chuck BB Memorial Group

3/14/2004

Windows; Interior partition placement; Sided 2/3 of west and 1/3 of east sides

WKHS HomeBase, Thursday Crew, Ohio State Moritz College of Law Community Service Project

3/7/2004

Most Dow Styrofoam insulation; Porch roof framing; Exterior doors

Thursday Crew, WKHS HomeBASE, OSU Newman Center

2/29/2004

House and garage roof shingles; Front porch roof trusses; Most 2nd floor wall assembly

Thursday Crew, WKHS HomeBASE, St. Charles High School Juniors, Union Savings Bank, St. Matthews Catholic Church of Gahanna

2/22/2004

House roof construction and tar paper; Garage roof construction and tar paper; Basement shelves; Garage & porch floors

Thursday Crew, Peace Lutheran Church of Gahanna, WKHS HomeBASE, OSU Campus HfH Chapter

2/15/2004

Second floor exterior walls; Porch beam assembly

OSU ??? Fraternity, OSU Campus HfH Chapter, WKHS HomeBASE

2/8/2004

Second floor sheathing; Second floor front & back walls; Gable end preparation

WKHS HomeBASE, St. Thomas More Newman Center, OSU Campus HfH Chapter

2/1/2004

Second floor joist system; One third of 2nd floor sheathing

Thursday Crew, Nationwide Insurance, WKHS HomeBASE

1/25/2004

Straightened & braced first floor walls; Installed double-top plates; Second floor wall plates

Thursday Crew, WKHS HomeBASE

1/19/2004
MLK Day

First floor load bearing walls; Garage walls

Alpha Phi Alpha Fraternity, Columbus Church of Christ, OSU MLK Day group, OSU Campus HFH Chapter, WKHS HomeBASE

1/18/2004

First floor joist system; First floor sheathing; Basement, garage foundation, utilities; First floor wall plates

Thursday Crew, WKHS HomeBASE