Jay Project (Fifth 2012)
Sponsored by The Columbus Foundation

Dedication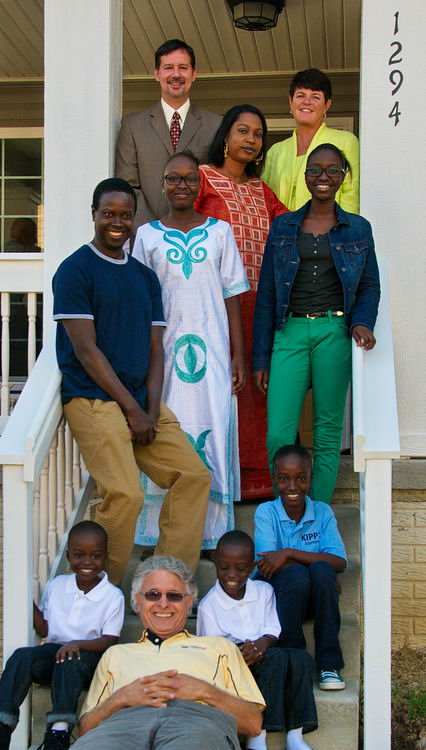 August 29, 2012
Photo by E.J. Thomas
Congratulations to the Jay Family on the completion of their new home Dedicated on August 29, 2012!
The Progress Log at the bottom of this page includes links to over seven hundred photos of volunteers working and each stage of the build. Here are Dave's favorite sixty-six of them. Enjoy!
We are thrilled to have had the opportunity to build a house with the Jay Family! Babacar Jay and Aissatou Faye moved to the United States from Senegal in 1992, lived in New York City for sixteen years, and settled in Columbus four years ago to raise their five children. Please see the Jay Family Stories page to read more about this lovely family!
We are most grateful to The Columbus Foundation, our Presenting Sponsor who made this project possible with their generous donation in partnership with The City of Columbus Neighborhood Stabilization Program (NSP), and the Self-help Homeownership Opportunity Program (SHOP).
This Habitat for Humanity—MidOhio project was situated at 1294 North Fifth Street. One Google map pinpoints the location, and another Google map shows the surrounding Weinland Park neighborhood. The dilapidated duplex seen in the Before photo to the left (click on it to see more detail) was recorded before the Columbus NSP program cleared the lot and provided it to Habitat.
Weinland Park is a diverse urban neighborhood of 4,800 people represented by the Weinland Park Community Civic Association. For a fascinating profile of Columbus' dynamic growth, check out the TEDx talk Surprise, It's Columbus 2.0! by Weinland Park resident Michael Wilkos. You can also peruse a wide array of interesting data about Weinland Park at city-data.com.
Progress log and photo galleries
Date

Photos

Volunteer Groups

Accomplishments

August 28

n/a

Lead

Exterior painting; punch list; final cleaning

August 27

n/a

Lead

Interior painting; punch list; garage cleaning

August 25

n/a

Individuals

Basement stairway molding; vacuum carpet; carpet protector; reinstall doors; cleaning; punch list;

August 24

n/a

Individuals

Garage siding; paint basement stairs; dishwasher; punch list

August 23

n/a

Thrivent Builds

Clean basement floor; trim nail-hole filling & painting; bi-fold doors; garage siding

August 22

n/a

Leads

Shoe molding; prepared garage door opening

August 21

n/a

Thrivent Builds

Interior doors & casing; baseboard & shoe molding; attic access covers; interior painting; garage cleaning

August 18

n/a

Individuals

Interior doors & casing; baseboards

August 17

n/a

Individuals

Laminate flooring; interior doors

August 15

n/a

Individuals

Laminate flooring

August 14

n/a

Thrivent Builds

Porch handrails; interior & exterior trim painting; bath accessories; laminate flooring prep

August 11

n/a

Individuals

Porch handrails; align bypass doors; paint garage door

August 10

n/a

Individuals

Porch handrails; pantry shelves

August 9

n/a

Thrivent Builds

Exterior door painting; siding; bath accessories; mini-blinds; closet shelves; 2nd floor cleaning

August 8

Godman Guild

Interior &asp; exterior painting; porch railings; clear brush; reinstall door slabs; clean windows; cabinet door pulls;

August 7

n/a

Thrivent Builds

Interior &asp; exterior trim painting; siding; egress window

August 4

n/a

OSU Medical students; Individuals

Interior &asp; exterior trim painting; garage siding; Tuff Coat; closet shelving

August 3

n/a

Individuals

Interior trim; handrail posts; garage siding

August 1

n/a

Individual

Countertop; interior doors & trim;

July 31

n/a

Thrivent Builds

Vanities; interior doors & trim; range hood

July 26

n/a

Thrivent Builds; Tuesday Crew

Porch trim; siding; interior doors; vinyl flooring underlayment

July 25

n/a

Individual volunteers

Attic insulation; porch trim

July 24

n/a

Tuesday Crew, individuals; family

Paint walls; siding; porch trim

July 21

n/a

Individual volunteers

Paint walls

July 17

n/a

Tuesday Crew

Siding; porch post trim prep

July 14

n/a

North Church

Siding (short day due to rain)

July 12

n/a

Thursday Crew

Soffit, siding, paint exterior trim, drywall clips

July 11

n/a

No work due to nearby train derailment

July 10

n/a

Tuesday Crew

Soffit, fascia trim, siding, interior framing details, insulation netting details

July 7 & 8

Bike & Build: Maine to Santa Barbara 2012 (ME2SB12)

Insulation netting, insulation baffles, insulation batts, interior framing details, interior trim painting

July 6

n/a

House lead

Preparation for trim painting and insulation

July 5

n/a

Thursday Crew

Soffit, siding, termite protection spray, interior framing details

July 3

n/a

Tuesday Crew

Siding

June 28

n/a

Thursday Crew

Siding

June 26

n/a

Tuesday Crew

Kitchen island knee wall, siding trim details, started siding

June 23

OSU Sociology Grad Students

Tuff Coat, soffit & fascia trim, cleaned basement, fire retardant paint on interior DOW insulation board, screwed down floor

June 22

Nationwide

Chalked level line, Tuff Coat, soffit, tape DOW insulation board, P- & J-channel, garage hurricane clips

June 20

Individual volunteers

Windows, DOW insulation board, soffit & fascia trim, tape insulation board

June 18

n/a

Lead

Doors & locks, insulate behind tub

June 9

House leads; familes, individual volunteers

Window, door & door framing; landing and stairs; final roof framing

June 2

Individual volunteers

Roof truss details; hurricane clips; installed OSB over 2nd floor trusses; porch trusses; stairway drop ceiling

May 31

Thursday Crew; individual volunteers

The Columbus Foundation Wall Raising; Completed 2nd floor walls; Prepared trusses for lifting

May 30

Arlington Bank; individual volunteers

Built & erected about 85% of 2nd floor interior walls; installed about 50% of double-top-plates

May 24

Thursday Crew; Individual volunteers

Completed 2nd floor trusses & 85% of deck; Installed porch beams; cleaned garage

May 18

AOL; OSU Education & Human Ecology; individual volunteers;

Built & erected half of 1st floor walls