Team Members
Meet the Team that worked in Ghana in January 2005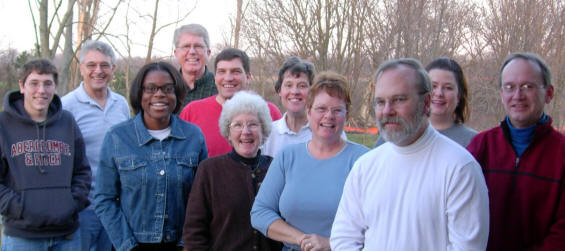 Dave Bezaire

, 51, has been the house lead on six Habitat for Humanity houses in Columbus, two of which were blitz builds during the Ohio State Fair. He is in his second term on the HFH—GC Board and he also helps out on the construction committee. During the fall he works as a Loaned Executive with the United Way of Central Ohio. He is a member of the OSU Newman Center (Roman Catholic Church) where he sings in the choir (ok... he really hides behind the good basses). Since retiring 3 years ago, Dave finds Habitat a great way to live his faith while playing with great toys, err… umm…tools.

Jim Eder

, 49, has been a dedicated Habitat for Humanity volunteer since 1989 when he helped in the early years of the Columbus affiliate and worked on the 15th Anniversary Celebration. Nine years ago he took a leap of faith and organized 7 local churches as the Hilliard Adopt-A-House Partnership, which is now nearing completion of its 8th home. He was also on the staff of the Greater Columbus HFH affiliate as Director of the Build It Again Center for 2 years. Jim and his wife Kathy have two sons, Christopher and Matthew. In addition to Habitat work, Jim and Christopher have been active in mission work locally, in other places within the USA and internationally. He calls it a "dream come true to be able to go to Africa to help those in need."

Regina Goetz

is a 16 year employee of the Ohio State University, where she currently works at the OSU Hospital. She enjoys traveling, hiking, camping and taking care of her animals. Regina will tell you that she wants to go to Africa because she enjoys helping people and because she has been looking for a trip overseas for a long time. "Going on this mission trip will make my dream come true!"

Susi Havens-Bezaire

, 53, began volunteering for HFH—GC in 1989 to help plan the 15th Anniversary celebration of HFHI, held in Columbus. Following that wonderful event where she met President Jimmy Carter and Milliard Fuller, she directed her volunteer efforts to fund raising for the local affiliate. She has served two terms as a board member (7 years), filled in as Interim Executive Director for 8 months, and continued to focus on resource development. Bob Perryman, the Executive Director of HFH—GC asked if she would step forward to organize this trip for the affiliate.

Natasha Davis, Esquire/MBA

, 30, is the newest member of our team, having been asked in late December to replace former teammate Kehinde Walker Powell. Natasha is a real estate professional who has recently started her own residential real estate investment business, CANI Quality Systems, LLC. A native of Baltimore, MD, Natasha has lived in Columbus for three years, and has been married to Scott Davis, an attorney and civil engineer with Bricker and Eckler, for four and a half years. This trip will mark her fifth visit to Africa— including Mauritania, Senegal, South Africa, Zimbabwe, Botswana and Egypt— but the first time that she has been to Africa TO SERVE!

Dan Hickman

, 23, began volunteering with Habitat as much as his schedule permitted this past summer. He is an OSU graduate and currently works at Abercrombie & Fitch's home office as a computer operator. This is not only his first mission trip, but his first trip overseas and he is anxiously awaiting the culture shock.

Daniel Hutson

, 48, is a member of St. Agatha Church in Upper Arlington, Ohio. He is active in the Saint Vincent de Paul Society, performs mission work at the St. John Food Pantry, and volunteers many Saturdays with the Greater Columbus Habitat for Humanity. He and his wife, Karen, are the parents of Peter, 7, who keeps them very busy with various church and school activities. Daniel is a Returned Peace Corps Volunteer having built schools in Gabon and is excited to return to Africa to work in this endeavor. He is a healthcare consultant and is presently working on his own charitable project – "Appalachian Health Network, Bread for Change."

Scott Moore

, 44, is Vice President of Transmission Operations at American Electric Power. He is a member of St. Brigid of Kildare Roman Catholic church in Dublin, Ohio where he serves as a lector. He volunteers many Saturdays with the Dublin Habitat for Humanity Partnership. He is also an Eagle Scout and serves as an Assistant Scoutmaster for Troop 117 Dublin. Scott's wife, Anne, works for the Ohio Department of Health and is currently pursuing a Doctorate in Audiology. Their children are Alex, a High School Senior, and Patrick, a 7th grader. Scott is a native of Idaho, but he grew up in Lubbock, TX. Some of his other interests include building, jogging, backpacking and outdoor adventure.

Judy Norbits

, 41, a native of Peoria, Illinois, moved to Columbus 3 years ago. She is the Business Administrator for the Orthopedic Surgeons at Columbus Bone, Joint and Hand Surgeons. She also volunteers for PetPromise, a no-kill rescue organization for homeless cats and dogs. A seasoned world traveler, Judy learned of Habitat for Humanity's trip to Ghana at their Ohio State Fair exhibit. Having the opportunity to expand her travels to a new continent, and to live and interact daily with the local community, is an exciting and welcome adventure for her.

Kehinde Walker Powell

, is our "favorite former team member". Unfortunately for both Kehinde and the team, she learned that doctors do not think it wise for pregnant mothers-to-be to build houses in tiny villages in Africa. Though we will miss her on the trip, she remains with us in spirit and in our hearts.

Kehinde coordinates homeownership programs for the City of Columbus including down payment initiatives for first-time homebuyers and creative financing options for low- to moderate-income buyers. She is also the Vice-Chairwoman and Fiscal Manager for SunChild Enterprises.

Kehinde is currently pursuing an MBA at Ohio Dominican University to complement her undergraduate work in finance, business economics and Japanese at OSU, where extracurricular involvement earned her the distinguished position of College of Business Corporate Leadership Fellow.

Kehinde is a member of many organizations and boards that deal with community issues including Columbus Housing Partnership's Housing Advisory Board. She firmly believes that "What the future holds for us depends on what we hold for the future," and appreciates the words of philosopher William E. Haller: "Hardworking todays make high-winning tomorrows."

Don Spoelker

, was born in Louisville, Kentucky in 1944 and graduated from Western University in 1966 with a B.S. in Marketing. He and his wife Betty have two children. First is Jeff , an architect, lives near Philadelphia with his wife Lisa, a social worker, and their daughters Nina and Julia. Second is Jennifer, a teacher currently on full-time-Mom duty, lives in Upper Arlington with her husband Tim, an engineer with the City of Columbus, and their sons Alex and Ben.

Don enjoyed 35 years with Pfizer Pharmaceuticals, retiring in 2001 after 23 years as a district sales manager. He served in the U.S. Army reserve from 1966 to 1972, and received an honorable discharge after serving as commanding officer of a support postal unit in Ft. Wayne, Indiana.

In retirement Don enjoys gardening, learning to cook (slow start-up), volunteering with Habitat for Humanity and Prescription Access (an agency that assists the uninsured poor obtain prescription medications), and frequent get-togethers with his family.

Marjorie Ward

retired from the OSU faculty in the College of Education at the end of June where for 26 years she had coordinated the graduate program for teachers of students with visual impairments (low vision and blind). Prior to coming to Ohio she taught in both general and special education public school programs, completed graduate work at the University of Pittsburgh, and served on the Penn Sate University faculty. She now looks forward to new challenges and, specifically, new opportunities for service through Habitat for Humanity with the Columbus Global Village Team assigned to Ghana. Marge is a member of Bethel Presbyterian Church, chairs the Missions Team, and in her spare time likes to cycle and ski.