Advocacy in Africa
by David L. Bezaire, March 2, 2005
(Click photos to see full size)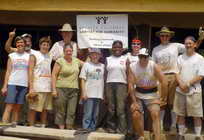 Like most Global Village teams, we returned from Awaso, Ghana glowing from a great experience. We were also thrilled that the Habitat for Humanity Ghana staff believed we had assumed a broader role than any GV team to date. Our previous HFH involvement in Columbus, Ohio had enabled us to pioneer some new territory. Although our vantage point is admittedly limited – after all, this was the first GV trip for anyone on our team and ours was the first team to visit the fledgling Awaso affiliate – we nonetheless believe that our experience may hold some valuable lessons for future GV teams as well.
Prior to arrival we were told we would build six houses, which seemed feasible to our small group because we held the familiar image of dozens of volunteers working on houses every Saturday. Imagine our surprise to find only the construction manager, four masons and apprentices, and six current and future HFH homebuyers at the work site. Clearly the addition of eleven Americans – who are not even in shape to work all day in ninety degree heat – would be woefully inadequate to meet such a lofty goal.
Eager and goal-driven as always, we naturally asked Solomon Sarfo, the HFH Ghana National Partner, "When will the other village volunteers arrive?" Although we were surprised to learn that volunteerism has not been significant in most Ghana affiliates, we could easily understand that villagers struggling to earn a meager living are hard-pressed to also "work for free." Anthony Baidoo, the very personable and hard working construction manager, further explained, "It's hardly worthwhile to teach masonry skills when most people work only on their own house."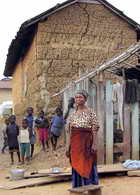 Solomon continued our education over dinner that evening, speaking quite eloquently about some of his frustrations. "Most people in Awaso don't understand Habitat. They think only the rich can own a house." He lamented that some people remain in terrible housing while spending money on a television or cell phone. Solomon also highlighted the important role of GV teams to motivate local villages with a transfusion of funds and "exotic" volunteers.
Our little team grew quickly. In addition to Solomon and Anthony, we invited bus driver William Sellasie to join our spirited discussions. We ran our ideas by Peter Derry, the 22 year old educated-but-unemployed leader of an Awaso church youth group that reached out to our team. Together we formulated some new action plans that we hoped would help jump-start the embryonic Awaso affiliate.
We began with the village Chief who we were to meet the next evening. Although he had donated land for 200 Habitat houses, the Chief had not visited the site since construction began. Amidst an elaborate traditional ceremony, we asked his blessing on our mission and gave simple gifts of an Ohio State University baseball cap and a Habitat for Humanity lapel pin. After hearing our description of the seven existing Habitat houses and our plans to build three more in two weeks, the Chief and elders of the village agreed to visit and inspect our work.
Visits with several future Habitat partner families in their previous residences proved fruitful as well. Seeing first-hand their overcrowded conditions and lack of cooking and toilet facilities further galvanized the will of our team. More importantly, we stood out starkly as the only strangers in town, and thus we met many of their friends, relatives and neighbors. Our repeated mantra was, "We are volunteers, working for free. Come visit us on the work site."
The next diversion from construction split us into six two-person teams to visit all of the public schools in Awaso. Many months of advance research had prepared us for the dreadful lack of educational resources, but we were pleasantly surprised to find polite, eager pupils and plenty of dedicated teachers. Everyone was incredibly appreciative when we distributed a couple pencils and notepads to each student. Again we took advantage of the opportunity to speak, expanding on our volunteerism message with the fact that"All of God's people deserve safe, decent shelter and Habitat for Humanity makes it possible."
The real stretch came on Sunday when, once again, we scattered among the community instead of attending church service together as planned. Although public speaking was out of the comfort zone for some, six eagerly accepted the challenge. Even more amazingly, we recruited several Habitat homeowners, despite the fact that they were absolutely petrified at the thought of speaking to an entire congregation. We developed a ten minute presentation based on biblical references from James 2:14 and I John 3:18 which state that "love without action is dead" and took it to all six of the local Christian churches simultaneously.
Speaking through a translator was yet another new experience for us, but we managed to be heard. The homeowners stressed that everyone deserves and can attain a Habitat for Humanity house. We explained the program, invited villagers to visit the site, and encouraged groups to "volunteer to work for free" once per month. We closed by asking everyone who would visit the site in the coming week to stand, and saw about one-third of each congregation respond positively. The continued buzz as we left church amid a flurry of questions confirmed that the messages were hitting home.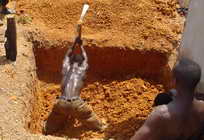 Three very busy build days followed as we struggled to get two houses ready for dedication and a third ready for roofing. We also made many adjustments, helping Anthony set aside his tools and concentrate on organizing and training the volunteers. No, we were not overrun by stampeding hordes. But we did see a couple dozen new faces, including eight who answered a challenge to dig a 7' by 7' by 7' latrine pit in one day, and a group of older school children who, along with the Pastor of their church, were instrumental in getting a large quantity of concrete blocks moved into place.
Habitat homeowners met each volunteer with a warm greeting, and Anthony integrated them into small teams led – after a bit of coaching – by the skilled masons who previously knew only hands-on skills. We asked several ladies of the village to make lunch, provided some funds for them to purchase food, and took time to break bread together. Once again, we were enjoying the familiar feel of a diverse group of volunteers joined in a common effort to do God's work, bound together by the theology of the hammer.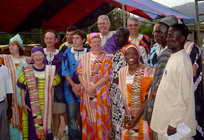 Two happy families received keys to their new houses at the Dedication. It was a noisy affair, with traditional African drums and dance to greet the village Chief and elders who arrived in ceremonial finery. Pastors from several churches prayed blessings on the new homeowners. Children in their neat Sunday outfits were everywhere. The village displayed their gratitude by giving a lovely custom-fitted African shirt or dress to each member of our team.
Was it worth the modest extra effort to adjust our agenda along the way? The answer is an unqualified yes. Even without the excursion into advocacy, our team would have formed close friendships, become acutely aware of the difficulties endured by underprivileged people in developing countries, provided housing for two deserving families, and shared a memorable experience to cherish for a life time. However, the ultimate payoff came when Anthony walked up to Dave, his mentor and coach as he learned to delegate, smiled, took his hand and said, "Look. Everyone is busy, the work is getting done, and I am not holding a tool!"
One of Solomon's closing comments, "Now the affiliate will think all GV teams are supposed to recruit volunteers and plan meals and they will grow that much more quickly," bolstered our hopes that Awaso will continue nurturing the seeds of volunteerism we planted. We imagine exciting possibilities if the Awaso faith communities follow through with monthly work sessions. Most importantly, we know in our hearts the joy of exceeding our goal by expanding the mission from building a couple of strong new houses to building a strong new Habitat for Humanity affiliate.