House Design
By Dave Bezaire
(Click photos to see full size)
Habitat Thailand adapts their designs to the needs of the partner family and building site. We worked on three houses (actually, also installed the foundation for a fourth, but did not get any sense for it's floor plan). All were all very similar, though each did have some minor variations.
The houses are all about 500 square feet, but it is important to note that in tropical climates people use space outside of their walls as extended living area. Thus the large overhanging roof and integral front porch are very significant, nearly doubling the living space.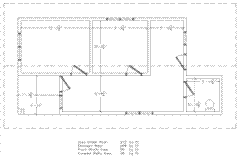 The room layout was a bit baffling to us. (Click on the drawing at right to see a larger image.)
There is a bathroom and what appeared to be a living room and bedroom. It was explained that cooking would be done outside on the covered patio. The other L-shaped room seemed to us almost like a large hallway, so we had difficulty understanding its value. However, we surmised that it would be utilized in many creative ways!
We wished that we had been able to visit a completed house and see how another family actually lives in it, but this was unavailable since we were building the first Habitat houses in the Na Toey area. So many questions -- it really would have been a big plus to have had some Thai language capabilities.