Columbus Global Village Team
Destination: Nicaragua?
After a fun Winter 2012 trip to Tucson, Susi & Dave had been contemplating what's next. Always eager to visit a new part of the world, Papua New Guinea jumped to the fore, but was found to be currently unavailable. Nicaragua, having been twice planned and cancelled, seemed attractive, especially since plans for an RV trip next summer to Alaska argued for staying a bit closer to home. The decision was pending as other projects kept them busy.
Enter Juan Carlos Rodriguez, HFHI Director of Development for Latin America, who Dave & Susi met after a wonderful southern lunch with Jimmy & Rosalynn Carter. Under bright sunshine in a field behind Carter's boyhood residence in Plains, Georgia, Juan Carlos told of Nicaragua's continuing leadership in implementing many of Habitat's newest programs. Susi responded with the possibility of an integrated team—half from the USA and half from Nicaragua—bringing twinkles of excitement and smiles of acceptance that were later echoed by Jonathan Reckford, HFHI CEO, after dinner that evening in Americus. The Nicaragua plan is starting to take root, so check back soon for definitive word and more details!
---
Your input is important to the trip selection process. What would sound exciting to you? Does the prospect of a trip to Central America raise your heart rate? Do you have another idea in mind? Tell Dave & Susi your thoughts. You can either use the Contact form or send an email to Dave.B.Ohio@gmail.com.
Working near home
Dave welcomes everyone in Central Ohio to help with the Fifth 2012 project which he will co-House Lead with Terry Baughman beginning in May. It's always great to enjoy a local adventure while planning the next GV trip, so visit the Fifth 2012 page for details and come on out!
Susi is excited to be working with the local Habitat for Humanity—MidOhio affiliate on some organizing and development projects. Specifics are still sketchy but details will surely follow soon…
Habitat is 6th largest home builder
Habitat for Humanity moved up two places to sixth largest home builder in the United States in
Builder Magazine's
2010 ranking. Read the
HFHI release
for context and a link to the article.
A road less traveled
A Road Less Traveled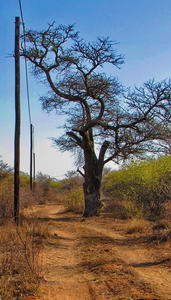 Molepolole, Botswana
Photo by Dave Bezaire
Although Susi and Dave have done most of their affordable housing work in their hometown of Columbus, Ohio, they find themselves driven to lead Global Village teams down a road less traveled to help bring safe, decent housing solutions to people worldwide.
"Why not just build at home?" you ask. "We do!" they answer, "and then when it's time for a vacation, we extend community to encompass the globe."
When you are ready for the vacation of a lifetime, join them! You will experience the excitement of volunteering side-by-side with families, the thrill of exploring new cultures beyond the tourist facade, and the satisfaction of building houses that enable dreams to unfold into rich new lives.
---


(Webmaster's note: I know.... but, it was so silly I couldn't resist putting here!)
We appreciate hearing comments, suggestions and offers of support.
Please contact us to indicate your interest or provide feedback.